AN IMPORTANT WARNING: ONLINE SEXTORTION COULD PRESENT ITSELF IN MANY FORMS!
The International SVS Association has highlighted a crucial fact that 'When dealing with the Criminality on Online Sexual Coercion and Extortion, we have to act fast!'
By Sheni Hamid,
The highly respected association SVS International (www.stopauxviolencessexuelles.com) has once more brought a globally important fact to attentions by reminding everyone that 'Online Sexual Coercion and Extortion' is an extremely serious problem and this malicious act could present itself in many forms.
During its 7th international conference that hosted in Paris UNESCO headquarters (6th -7th Jan 2020), SVS's Chairwoman Dr Violaine Guérin presented many crucial facts; and the leading topic experts as well, collectively addressed a huge audience which again joined by the international media.
Also attended by highly ranked Interpol representatives, the conference pointed to an urgent matter when the relevant topic came to cybercrime.
During the renowned conference the Interpol representatives brought to attentions that 'When it comes to online Sexual Exploitation and Coercion, the motivation is usually financial/sexual content and most of the offenders are: Organised groups/individuals; while the victims are always adults, young adults and children'.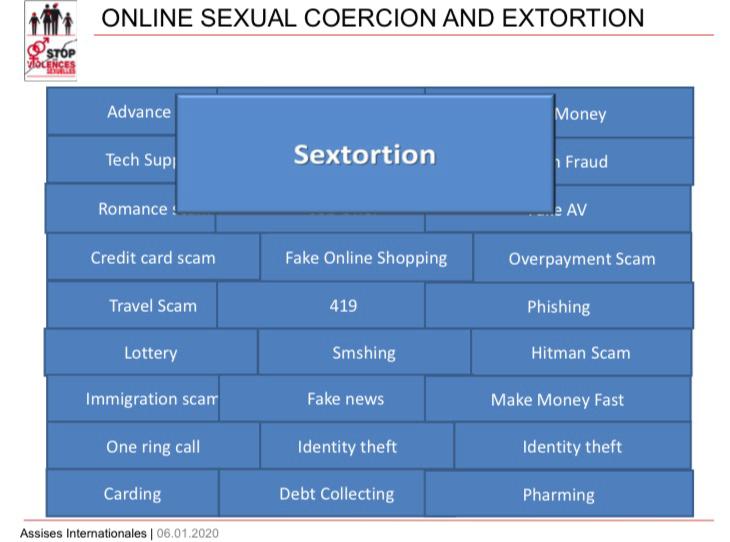 The Interpol representatives noted that, the ONLINE SEXUAL COERCION AND EXTORTION (OSCE) offenders could be coming from anywhere.
In general, OSCE offenders do appear using open source software, while at some interactions posing 'as a female with child' to engage the victims' attention.
During his/her multiple communications, the offender/s use organised "call centres" or individuals to carry the malicious act. Eventually following to various conversations, the offender could ask for a money transfer (or multiple transfers), which occurring via classic methods. As an example occuring amongst various methods:
Throughout the ONLINE interaction with the targeted victim (or potential victim) the perpetrator's introduction begins as if 'something happened or happening'…

Once the target's attention being caught, the grooming, the platform jump, the act and the messaging begins.

After victim's trust being gained, the shame, the demand and the threat process starts.
With regards to children: While the majority of these manipulation tactics are used equally against male and female children, there are significant differences in the use of certain methods.
More specifically, when child victims being targeted, significantly male offenders more likely to pretend to be in younger age and/or pose as a female.
Or same male offenders again, could pose as a female, offering to engage in sexual reciprocity through shared images online or by live-streaming…
Eventually such act turns into recording the victim unknowingly and then the threatening takes its course about posting those images/videos online (or wherever family and friends could see them).
In contrast, when child victims are female, offenders more likely chose to offer something that could get initial sexually explicit content from them… Such offerings to aforementioned victims could be even money or drugs.
SVS topic experts and Interpol representatives stated 'Today, children and young adults increasingly use the online environment to socially interact and form relationships -which understandably, this is the natural part of their development. Therefore, it is our responsibility to educate everyone on potential/existing threats and it is our responsibility to protect the vulnerable, while making the online environment as safe as possible'.
First step to this important safety measure should be having clear, effective reporting and support mechanisms so the potential victims/victims could understand where to turn to for assistance. Hence, all the topic experts need to achieve working in coherence, while providing effective help and guidance within the society.